One in three enterprises believe they are mobile cloud ready, according to extensive multi-national research conducted by mobilesquared.
Large enterprises are leading the charge toward the mobile cloud, with 34% mobile cloud ready in 2016, followed by medium enterprises (30%) and small enterprises (23%).
What is the mobile cloud?
An outdated definition of the mobile cloud is that it is an extension of existing traditional fixed cloud-based services to a mobile device, such as access through an app. This fails to capture the technological advances that have transformed the capability and functionality of mobile devices, and are now present and driving mobility across enterprises.
This report defines the mobile cloud as an "application driven, device-optimized, seamless user experience within a secure environment accessed over any internet connection worldwide. It creates a dynamic subscriber experience as the services are native to the mobile device, by connecting directly to the service provider 's IMS (IP multimedia subsystem) network".
Enterprises have identified the top five mobile cloud features as: location awareness, charging framework, authentication framework, published APIs for app integration, and localization of customer data.
The importance of the cloud cannot be underestimated. The research shows that 89% of enterprises believe the cloud is important to their business. Yet the cloud is an app-centric, connected device-driven model, with a retroactively-fitted mobile user experience.
In contrast, the mobile cloud is a device-centric, application-driven model designed
to optimise the user experience. The distinguishing business benefits derived from the mobile cloud compared to the cloud will be an optimized user experience, device awareness, network integration for location awareness, as well as enhanced security and identity management.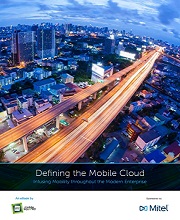 Moreover, the mobile cloud will drive enterprise-wide adoption, as opposed to the cloud which has primarily been the utilized by large enterprises. To access the report Defining the Mobile Cloud: Infusing Mobility throughout the Modern Enterprise, please click here