26th April 2019, by Nick Lane

There's no looking back, in 2021 RCS will officially be the world's biggest business messaging platform.

Let's look at the business messaging world from a mobile operator's perspective. There are 4 billion users on SMS, and we really should not devalue that figure, just because it is SMS. It is still 4 billion people. It is a fragmented 4 billion, but then every messaging platform has a fragmented user base. Coca Cola, for example, will not send one message to all 1.5 billion users on WhatsApp. Yet these are the numbers brands want to see, so we'll run with it. Back to those big numbers.

Mobilesquared believes the future of messaging is really in the hands of the smartphone user. There are 3.5 billion smartphones, of which 2.8 billion are Android. Based on the Android devices that are RCS compliant today, we believe the potential reach is just over 900 million devices worldwide – to be clear, these are not "Active Users".

The role of Apple within RCS remains unsure, so Apple remains something of a reference point. We know that Apple is unlikely to consider interoperability with RCS for P2P traffic until iOS14 at the earliest, which would be 2H 2020. Although it is expected to start interoperability trials in key iPhone markets later this year.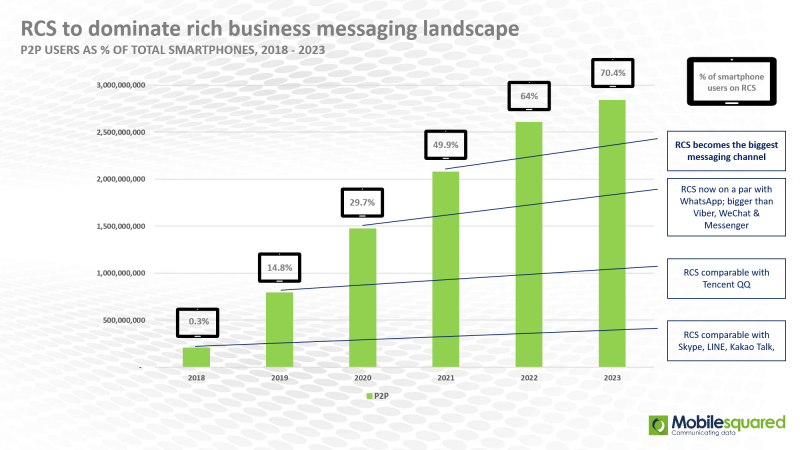 So we'll concentrate on Android when it comes to our forecasts for P2P RCS users. As of the end of 2018, there were 203 million of them globally, and by the end of our forecast period in 2023, there will be 2.8 billion RCS users. That is exponential growth.

So right now, in terms of global reach, RCS is comparable with the likes of Skype, LINE, Kakao Talk. At this point just 0.3% of total smartphone users are on RCS.

By the end of this year, there will be 790 million RCS P2P users, at which point RCS has caught up with Tencent's QQ. By the end of 2019, 14.8% of total smartphone users are on RCS.

2020 will be a key year for RCS in terms of scale – Brands take note! Not only will it reach 1 billion users, but by the end of the year there will be 1.47 billion users and the channel is now bigger than Facebook Messenger, WeChat, and Viber, and is on a par with WhatsApp.

In 2021, RCS will officially become the world's biggest business messaging platform, with more than 2 billion users, accounting for 50% of total smartphone users. There is no looking back. This is when we expect RCS to truly become the darling of the brands and enterprise, and be their go-to communication channel.

nick@mobilesquared.co.uk