Business messaging as a service has never been in a better position. Its future has been founded on the bedrock of mobile operator-controlled A2P SMS, and that in itself presents a fantastic opportunity for mobile operators to remain central to the rich messaging environment.
But what is the impact of a mobile operator transitioning from their existing A2P SMS model to RCS?
On numerous occasions mobile operators from around the world have told Mobilesquared that the threat of cannibalising existing A2P SMS revenues is a big factor in why they have delayed the migration to RCS.
In A2P SMS, the mobile operator receives the cost per message that they set based on an agreed interconnect rate. With RCS there is the additional cost of the platform that has to be recompensed, whether that is on-premise or cloud-based, with mobile operators typically faced with an upfront cost or revenue-share models with their RCS provider.
Therefore, each mobile operator must develop a business plan that accounts for the transition of SMS messages onto RCS and associated platform costs.
Using industry data and Mobilesquared data, we have developed a cost analysis for two differing RCS deployment models, looking at the impact of, potential cannibalisation to, and uplift of, existing and projected A2P SMS revenues. To put this into practice, we have applied both models to a fictional mobile operator.
In model 1 our fictional mobile operator deploys an on-premise RCS core platform + MaaP from a third-party provider with a 3-year amortization period based on a revenue share agreement of RCS business messaging revenues. The companies agree a declining revenue share deal as the mobile operator increases RCS business messaging sales over the 3-year period.
In model 2 our fictional mobile operator wants a quick launch so selects a cloud-based RCS core platform + MaaP from a third-party provider with no costs except an on-going revenue share agreement of RCS business messaging revenues at a set percentage for the duration of the agreement. The mobile operator has no capital expenditure or operational expenditure costs associated with the RCS platform (though of course there will be on-going internal operational costs).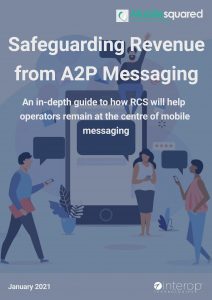 The findings from the cost analysis reveal that mobile operators need to expedite their RCS deployment strategy sooner rather than later in order to capitalize on the significant uplift in traffic and revenues that they will subsequently enjoy. And that is how they will remain dominant in business messaging.
You can find out the actual results of our full cost analysis in this free white paper, 
Safeguarding Revenue from A2P 
Messaging
, available now to
download
For more details about this research please contact: Nick Lane, Chief Data Analyst, Mobilesquared, at
nick@mobilesquared.co.uk