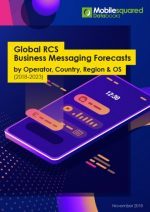 Global RCS Business Messaging Forecasts 2018-2023 Databoook by Mobile Operator, Country, Region & OS (Published November 2018). Buy from £2,995 excl. VAT.
Learn more & Buy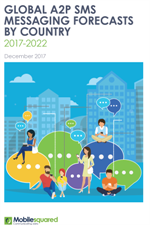 Global A2P Messaging Forecasts by Country: 2017-2022: Mobile Operators key to unlocking multi-billion dollar SMS ecosystem (Published end November 2017). Buy from £2,995 excl. VAT.
Learn more & buy
Why Databooks are different  
Mobilesquared Databooks are not like traditional market reports. We've developed a new data-rich but text-light format that focuses on the data itself first, delivering detailed 5-year forecasts – actual numbers, not just percentages – on key global mobile markets and topics, as either a comprehensive Excel Databook file or via an online Data Dashboard. No need to wade through pages of irrelevant copy to access the key data you need, it's easy to find.
The data is accompanied by a concise PDF Executive Summary covering key trends. Click here for a full list of the 200 global markets our Databook forecasts cover, at national and regional  level.