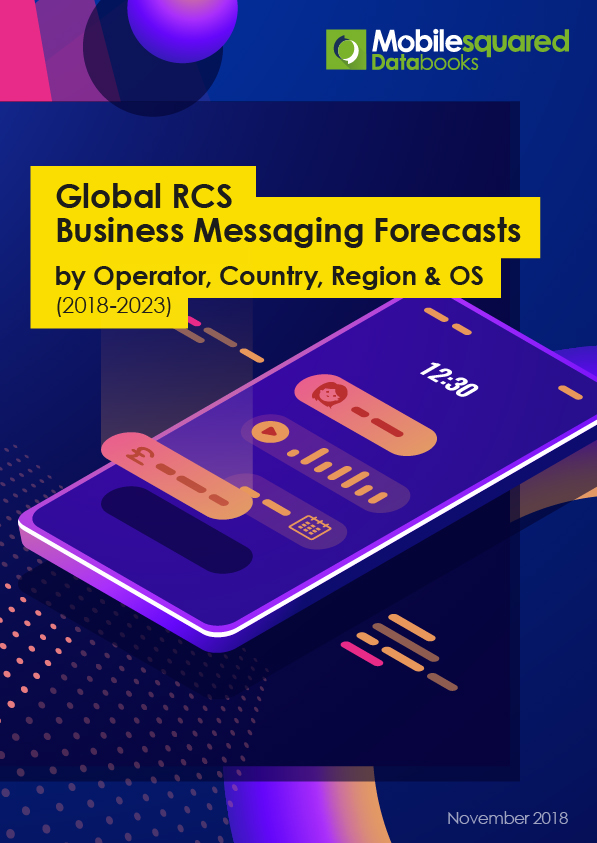 Global RCS Business Messaging Forecasts by Operator, Country, Region & OS (2018-2023) DatabookPLUS
By Country version (Excel) £5990 (excl. VAT) / By Mobile Operator version (Online) £8995 (excl. VAT)
(Published November 2018)
The Global RCS Business Messaging Forecasts (2018-2023) Databook is the largest piece of research to date on the RCS business messaging market, and the culmination of 18 months' research including in-depth interviews with the mobile industry decision-makers shaping the messaging market, and extensive business and consumer research. It includes five-year forecasts for up to 200 markets (see the full list of markets here) and 650 mobile operators, and is the only report currently available which delivers mobile operator, and national, as well as regional, forecasts. This Databook is essential reading for any company looking to invest in an RCS strategy. The Global RCS Business Messaging Forecasts (2018-2023) DatabookPlus is available to buy in two versions, split by Country/Region/OS data only, or split by Mobile Operator data plus Country/Region/OS. Both versions include quarterly data and market insight updates for a 12 month period from date of purchase. Scroll down to see what's included for each version.
Mobilesquared are widely recognised as the leading analysts for RCS business messaging forecasts and intelligence, having tracked the messaging market since 2008, published several major business messaging reports, and been invited to present our RCS forecasts at every major international messaging event (including Mobile World Congress, SMS & Messaging World, and GSMA Messaging Labs) over the past two years.
This Databook includes comprehensive data on RCS users, traffic and spend for 200 markets and 650 mobile operators (where available), and is the only report currently available to include forecasts split by national market, region and mobile operator, as well as OS. Our business messaging market research has cemented our belief that RCS represents nothing short of customer engagement evolution, and that the messaging channel is by far the most powerful channel a brand has at its disposal to connect with its customers. Don't plan your RCS business messaging strategy without reading this Databook.
Companies who purchase this DatabookPlus will receive:
The latest version of the data as either an Excel file (if purchasing Country version) or as an Online dashboard (if purchasing the Mobile Operator version)
An accompanying market report, including analysis of key trends and market developments (as a PDF file)
A further 4 x quarterly data and market insight updates, over a 12 month period from date of purchase, in addition to the initial data and market report
Includes the below topics covering up to 200 global markets (delivered as an Excel file):
Users
RCS users by smartphone OS and total
RCS users as % of relevant smartphone OS and total
Traffic
RBM A2P event traffic by smartphone OS and total
RBM A2P session traffic by smartphone OS and total
Underlying A2P SMS traffic by smartphone OS and total
Uplift in RBM traffic from underlying A2P SMS by smartphone OS and total
RBM P2A session traffic by smartphone OS and total
Total RBM traffic by smartphone OS and total
RMB messages per user by smartphone OS and total
Total RBM sessions by smartphone OS and total
Spend
RBM A2P event spend by smartphone OS and total
RBM A2P session spend by smartphone OS and total
Underlying A2P SMS spend by smartphone OS and total
Uplift in RBM spend from underlying A2P SMS by smartphone OS and total
RBM P2A session spend by smartphone OS and total
Total RBM spend by smartphone OS and total
RMB spend per user by smartphone OS and total
Includes the below topics covering up to 200 global markets & 650 mobile operators (delivered as an online dashboard):
Users
RCS users by smartphone OS and total
RCS users as % of relevant smartphone OS and total
Traffic
RBM A2P event traffic by smartphone OS and total
RBM A2P session traffic by smartphone OS and total
Underlying A2P SMS traffic by smartphone OS and total
Uplift in RBM traffic from underlying A2P SMS by smartphone OS and total
RBM P2A session traffic by smartphone OS and total
Total RBM traffic by smartphone OS and total
RMB messages per user by smartphone OS and total
Total RBM sessions by smartphone OS and total
Spend
RBM A2P event spend by smartphone OS and total
RBM A2P event spend by MNO, aggregator and total
RBM A2P session spend by smartphone OS and total
RBM A2P session spend by MNO, aggregator and total
Underlying A2P SMS spend by smartphone OS and total
Underlying A2P SMS spend by MNO, aggregator and total
Uplift in RBM spend from underlying A2P SMS by smartphone OS and total
Uplift in RBM spend from underlying A2P SMS by MNO, aggregator and total
RBM P2A session spend by smartphone OS and total
RBM P2A session spend by MNO, aggregator and total
Total RBM spend by smartphone OS and total
Total RBM spend by MNO, aggregator and total
RMB spend per user by smartphone OS and total